Disrupting Money: Puerto Rican Community Currency Project Makes Its Way to New York for the 2019 Loisaida Festival
May 20, 2019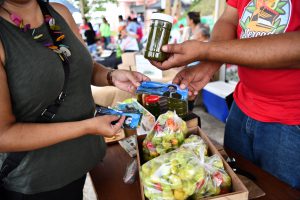 Following a successful launch earlier this year, Puerto Rican artists will begin circulating Puerto Rican 'pesos' at the Lower Manhattan Festival ahead of one-month residency in the city.
NEW YORK, NY – On May 26, Valor y Cambio, an interactive community currency project that seeks to challenge austerity policies in Puerto Rico and beyond, will have its New York City premiere at the 2019 Loisaida Festival, followed by a one-month residency that will include collaborations with local businesses and other venues. The project is part of Pasado y Presente: Art After the Young Lords 1969-2019, an exhibition produced by Loisaida Inc. in partnership with Nathan Cummings Foundation, that will open on May 31.
At the core of Valor y Cambio (#ValorYCambio) is a community currency, the peso of Puerto Rico, inspired by Puerto Rican figures recognized both locally and
internationally for their contributions to social justice. Building on the research of Unpayable Debt, a working group at the Columbia University Center for the Study of Social Difference, artists Frances Negrón-Muntaner and Sarabel Santos Negrón first launched the project in Puerto Rico in February 2019. The pesos were available at partner businesses and organizations, through an ATM machine, which dispensed the bills in return for participants recording a short video about what they value. Over a thousand people shared their thoughts and stories during the project's first week.
By combining art, storytelling, and solidarity economy principles, Valor y Cambio started a broad conversation about what is a just economy and how to foster collective empowerment in the face of austerity policies. "Through engaging with local communities and businesses that are willing to use the currency for a specific period of time, the project provides "an experience about how the economy can better respond to the needs of most people,"  explains Frances Negrón- Muntaner. "It also allows participants to create a different conception of wealth based not on extraction and profit, but full access to education, environmental protection, and racial and gender equity, among other fundamentals."
Community currencies are increasingly used around the world to value the skills, stories, and talents of communities with limited access to the official currency. These currencies do not substitute the official one, but they enable communities to exchange work, time, and resources to meet their needs. There are thousands of community currencies circulating in the world, including in the United States.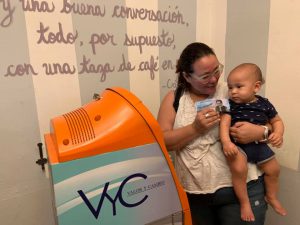 The Puerto Rican peso has six denominations, each featuring a figure or community selected for their commitment to the project's four core values: solidarity, equity, justice, and creativity. They are: the siblings Gregoria, Celestina, and Rafael Cordero, pioneers of Puerto Rico's modern public education system; the abolitionist physician Ramón Emeterio Betances; feminist and labor organizer Luisa Capetillo; poet Julia de Burgos; human rights advocate and MLB Hall of Famer Roberto Clemente; and the eight communities of the Martín Peña channel in San Juan.
"Each bill tells a story and invites a conversation about the contributions that these figures and communities made toward a more equitable world, and what is needed to continue the work that they started," says Negrón-Muntaner.
While Valor y Cambio emerged in response to Puerto Rico's current debt crisis, many of the economic challenges facing Puerto Ricans there have been, and continue to be, present in the Puerto Rican diaspora and other New York communities. Moreover, mass migration itself is a result of economic and political crisis. Not surprisingly, all of the iconic figures that appear on the Puerto Rican pesos experienced the impact of forced migrations in their lifetimes, and several, such as Betances, de Burgos and Capetillo, share a deep connection to New York City.
Valor y Cambio will be present at the 2019 Loisaida Festival, which each year celebrates the diasporic heritage of this historic Puerto Rican neighborhood characterized by a strong sense of community pride, creativity, and innovative resilience. The Puerto Rican pesos will be available through a refurbished ATM called VyC, for Valor y Cambio. "Participants just have to record their responses about what they value. The machine records the video and offers the pesos, which businesses will accept in exchange for some items," explains Santos Negrón. These recordings will be part of a documentary about the project.
"In both Puerto Rico and New York, many assume that the talents of people without access to dollars have no economic, cultural, or social value. Our project questions that idea and suggests that crisis moments offer an opportunity to rethink an unjust economic system, and to explore creative community-centered initiatives," concludes Negrón-Muntaner.
For details about the historical figures featured on the bills and more information on social currencies around the world, visit www.valorycambio.org.
To take part in Valor y Cambio NYC, visit the Loisaida Festival and seek participating businesses and organizations that will accept pesos. These include:
Booths at the Loisaida Center, on May 26.
| | | |
| --- | --- | --- |
| BOOTH | LOCATION on the 26th | WEBSITE |
| The Loisaida Center | Avenue C between 6th and 12th Streets, Lower East Side | http://loisaida.org/ |
| Brigada PDT | Avenue C between 6th and 12th Streets, Lower East Side | https://www.brigadapdt.org |
| Embajada Books | Avenue C between 6th and 12th Streets, Lower East Side | |
| Loisaida Artivists Brigade | Avenue C between 6th and 12th Streets, Lower East Side | http://loisaida.org/category/lower-east-side/ |
| Mezcolanza | Avenue C between 6th and 12th Streets, Lower East Side | https://www.facebook.com/events/plaza-de-la-convalecencia-r%C3%ADo-piedras/mezcolanza-pr/1728446727370096/ |
| Maria Fund | Avenue C between 6th and 12th Streets, Lower East Side | https://mariafund.org |
| Casa Paoli Books | Avenue C between 6th and 12th Streets, Lower East Side | http://caribya.com/ponce/casa.paoli.museum/ |
City-wide, from May 26 to June 30
VENUE
LOCATION
WEBSITE

The Loisaida Center

710 E 9th St,. New York, NY 10009

http://loisaida.org/

Mil Mundos Libreria

323 Linden St,. Brooklyn, NY 11237

https://www.milmundosbooks.com/en/

Teatro SEA

107 Suffolk St. #202, New York, NY 10002

http://teatrosea.org

La Tea

107 Suffolk St., New York, NY 10002

https://teatrolatea.org

Pregones

575 Walton Ave., The Bronx, NY 10451

https://pregonesprtt.org

Repertorio Español

138 E 27th St., New York, NY 10016

https://repertorio.nyc/#/

Downtown Art

70 E 4th St., New York, NY 10003

http://downtownart.org

La Marqueta Retorna

1590 Park Ave., New York, NY 10029

https://www.nycgo.com/arts-culture/la-marqueta-retona-east-harlem

No Longer Empty

122 West 27th St., Floor 10




New York, NY 10001

https://www.nolongerempty.org

The LitBar (South Bronx)

131 Alexander Ave., The Bronx, NY 10454

http://www.thelitbar.com

La Morada (South Bronx)

308 Willis Ave., The Bronx, NY 10454

https://lamoradanyc.com

Port Morris Distillery (South Bronx)

780 E 133rd St., The Bronx, NY 10454

https://www.portmorrisdistillery.com
###
About the Artists
Frances Negrón-Muntaner is a filmmaker, writer, curator and a professor at Columbia University (New York), where she founded the Latino Arts and Activism Archive. Some of her publications are: Boricua Pop: Puerto Ricans and the Latinization of American Culture (CHOICE Award, 2004), The Latino Media Gap (2014), and Sovereign Acts: Contesting Colonialism in Native Nations and Latin America (2017). Some of her films: Brincando el charco: Portrait of a Puerto Rican (1994), Small City, Big Change (2013), and War for Guam (2015). She has been recognized as a scholar and filmmaker with fellowships by Ford, Truman, Rockefeller and Pew foundations. She is also the recipient of the Lenfest Award, one of Columbia University's most prestigious recognitions for excellence in teaching and scholarship (2012), an inaugural OZY Educator Award (2017), and the Frank Bonilla Public Intellectual Award, presented by the Latin American Studies Association (2019). She currently directs the Media and Idea Lab at Columbia University and co-directs Unpayable Debt, a working group on the global debt crisis, supported by the Center for the Study of Social Difference.
Sarabel Santos Negrón is a multidisciplinary artist, an educator and a professional in museology. Her work focuses on the experience and the memories of nature and landscapes of Puerto Rico and the Caribbean. She has curated several projects in the United States and is the current director of the Bayamón Museum of Art in Puerto Rico. Some of her projects: Entre Reinos (2016), Casa Roig, Humacao; Portraits of Nature (2013), Pierced Gallery, New Jersey; and Encuentro (2012), Pontificia Universidad Católica, Ponce. She has also had exhibitions at: Steps Peace Museum, New York; Anytime Department Gallery, Cincinnati; Espacio Tres50, Chiapas, Mexico; Rigss & Leidy Gallery, Maryland; Saatchi Gallery, London; and Arsenal Museum of the Spanish Navy, among other spaces. In 2016, the Maryland Institute College of Art awarded her a merit scholarship for graduate studies.
About Loisaida Inc: Founded in 1978, the mission of Loisaida Inc. is to address the serious economic and social disenfranchisement of Latinx residents while offering multi-generational programming that appeals to the social and cultural sensibilities of the Lower East Side.
About Acacia Network: The Acacia Network, the parent company of Loisaida Inc., is an integrated care organization with offices in New York City, Buffalo and Albany, Orlando and Puerto Rico. It is the 2nd largest Hispanic nonprofit organization in the country. Their mission is realized through three main service delivery systems; Primary Health Care, Behavioral Health Care, and Housing.
#LoisaidaFest2019 #LoisaidaFest #LESHistoryMonth
Loisaidafest.org​ | ​Facebook.com/LoisaidaFest​ | @loisaidafest
Valorycambio.org |Facebook.com/valorycambiopr/
For media inquiries, contact: n.davidpastor@gmail.com or vb2239@columbia.edu