Laura Ciolkowski Discusses Rape Culture and "Locker Room Talk" on WFUV Podcast "Issues Tank"
December 11, 2016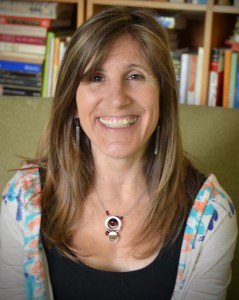 Laura Ciolkowski, Associate Director of the Center for the Study of Social Difference and Adjunct Associate Professor of English and Comparative Literature at Columbia University, was interviewed on the WFUV podcast "Issues Tank" on the subject of rape culture and "locker room talk."
Following the outcry over then-presidential hopeful Donald Trump's reference to past sexually predatory and misogynist comments as "locker room talk," the podcast episode featured interviews with male and female athletes on what conversations really happen in locker rooms and discussion with Ciolkowski about "gendered language" in general.
Ciolkowski said the current conversation about "locker room talk" needs to focus less on inherent gender differences between men and women in relation to language  — she repudiates the popular model of "men are from Mars, women are from Venus" — and more about social power dynamics.
"When we talk about gendered language we should be talking about status and power" rather than some sort of "hard-wired" male and female difference, said Ciolkowski.  Gendered language always expresses differences in status rather than simply biology or Nature, she said.
Such differences in status often work in the service of rape culture, which Ciolkowski defines as the trivializing and normalizing of sexual violence ("boys will be boys," "locker room talk") and the objectification and devaluation of women. Ciolkowski believes that the increased frequency of discussions about "locker room talk" in the news cycle and the popular media means "We are forced to see and think about in a much more nuanced way what work this language is doing" and are being given even more opportunities to "push back against it."
Hear the full podcast here.