KEYWORDS: Interdisciplinary Roundtable Conversations
April 21, 2014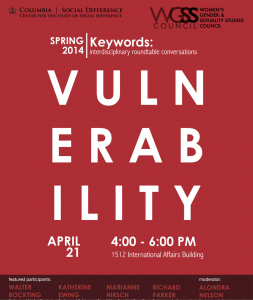 Colleagues from the Humanities, the Social Sciences and the Socio-medical Sciences discuss "Vulnerability" as a keyword in the study of social difference.
Featured participants were:
Walter Bockting
Professor of Medical Psychology (in Psychiatry and Nursing) and Co-Director, LGBT Health Initiative, Division of Gender, Sexuality, and Health, Department of Psychiatry
Columbia University
Katherine Ewing
Professor of Religion and Director of the Center for the Study of Religion and Sexuality
Columbia University
Marianne Hirsch
William Peterfield Trent Professor of English and Comparative Literature and Women's and Gender Studies and Director, Center for the Study of Social Difference
Columbia University
Richard Parker
Professor of Sociomedical Sciences and Anthropology, and Director, Center for the Study of Culture, Politics, and Health
Columbia University
Moderator:
Alondra Nelson
Professor of Sociology and Women's and Gender Studies, Director, Institute for Research on Women, Gender, and Sexuality, and Co-Chair, Women's Gender, and Sexuality Studies Council
Columbia University
Keywords: Interdisciplinary Roundtable Conversations is a series inspired by theinnovative interdisciplinary scholarship promoted by the Center for the Study of Social Difference. The series draws participants together from a wide range of disciplinary homes in order to explore the various ways we think about fundamental critical/theoretical ideas and to generate new vocabularies and new methodologies.  The WGSS Council is a network of leaders from centers, institutes, and initiatives at Columbia University dedicated to women's, gender, and sexuality studies.