CSSD Funds New Working Group Addressing the Politics of Unpayable Debt and Its Effect on Social Mobilization
May 12, 2016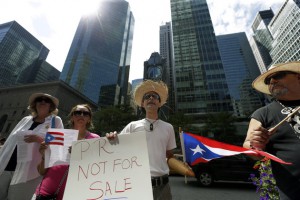 CSSD has awarded a two-year grant for $35,000 to an interdisciplinary faculty group that is developing a comparative research and public engagement project examining the emergence and impact of massive debt on vulnerable polities and populations.
Convening in the fall of 2016, Unpayable Debt: Capital, Violence, and the New Global Economy raises critical questions about the role of debt in contemporary capitalism; the relationship between debt, migration, and violence; and the emergence of new political and cultural identities, particularly among subordinated groups. The project's members, which include scholars, filmmakers, and journalists, examine the politics of information asymmetry—a lack of data and conceptual tools—and how this might undermine social mobilization in impoverished communities, peoples, and countries.
The interdisciplinary group will compare recent and landmark cases such as Puerto Rico, Argentina, Greece, Spain, and U.S. cities like Detroit as well as other spaces that have been historically affected by debt. The project will also develop a web platform to disseminate existing information, facilitate public engagement, and increase discussion about the politics of debt.
The project's directors are Christina Duffy Ponsa, George Welwood Murray Professor of Legal History, Columbia Law School and Frances Negrón Muntaner, Professor of English and Comparative Literature and Director, Center for the Study of Ethnicity and Race, Columbia University.