Mapping Out
March 28, 2022
November 20, 2021 Group Workshop with Maria
We as a collective attempted to connect through body movement. Like molecules we bumped and diverged, spreading in all directions at different speeds. After a while we were asked to trace ourselves to the past. So we made body maps. Laid them out flat and traced the outline of our present selves while filling the bodies with loss, fears, memories, thoughts and even hope.
I traveled through the incessant cries and frustrations of my children and through my own memories of feeling trapped, scared and in pain from the sickness.
As I drew the inside of my body map I began to outline green vines, wrapping my body, circling around my feet, protecting me from myself? I wasn't sure, but I kept going with it. I had to see how the vines were going to get me out of my own head. And they did.
Even though my hands were tied in a pink bow and I felt helpless, even though knives like death were threatening me from all sides, I felt the green vines were going to bring me back.
When I stood up and looked at my body map from a distance I was overwhelmed by the image of my own body, "is that my body?" I asked myself, "who am I?"
People who walked by commented but I stood there and tried to capture the feeling. I was sad by how quickly I forgot or rather got used to the pain brought on by the pandemic without even giving it a breath of release.
After everyone was done we hung up our bodies on the back walls of the auditorium. We walked circles around the hung bodies and we mourned together. We shared stories inside the bodies. We commemorated the bodies we had hoped were left behind for good. Some bodies didn't want to be left behind, they were the lucky ones.
Once we attempted at peace with ourselves, we were asked to now mark our neighborhood maps, maps of our physical space during COVID, maps of our stagnation. That wasn't hard. I had a hard time finding myself on the map, where did I live? Where did I go during this time? Why couldn't I find my street. So I went to another group's map because I didn't want to be alone. There I found three spots that situated me on the map and I suddenly felt at ease. I told some people about the places I marked. Hudson River path near my home where I walked regularly and let kids ride their bikes while cursing unmasked runners under my mask. I marked my block where I spent almost a year in isolation with my family. I also made a mark where I work, far from home but a place where I was told I had to be even if I was afraid. When I tried to look for a place where we would go to escape, near Bear Mountain, it wasn't on the map. It was not part of the map that was handed to me. I guess the escape is just not part of the big picture but a distant place, hidden and off the radar. It's better that way, less chance of it getting contaminated.
After the Workshop I somehow felt closer to myself, like I got to know myself a bit better. The workshop allowed me the time and space to feel and be with my thoughts and memories and that was enough to begin the journey of healing from the past COVID to the present COVID. And even though the pandemic is still in full swing, I now know where I can be found.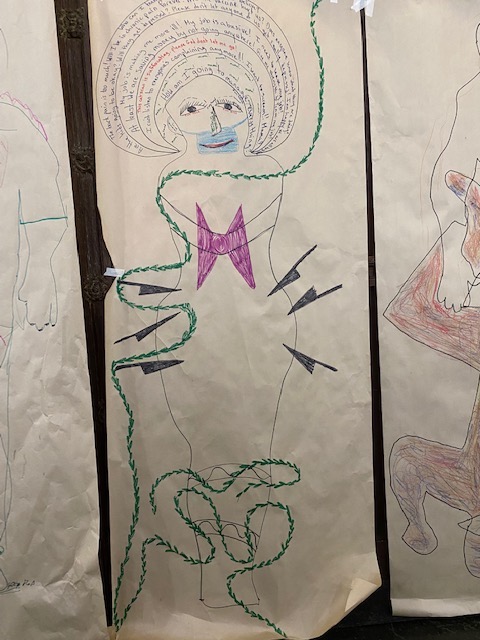 Author Bio: Leah Kogen-Elimeliah is a poet, essayist, short story and nonfiction writer from Moscow, currently living in New York City. She is an MFA candidate at City College of New York, is the Founder and Director of WordShedNYC Reading Series and an Editorial Associate for Fiction literary magazine. Her writing focuses on immigration, identity, language, sexuality and culture. She is a member of the ZIP Code Memory Project.
The Zip Code Memory Project seeks to find community-based ways to memorialize the devastating losses resulting from the Coronavirus pandemic while also acknowledging its radically differential effects on Upper New York City neighborhoods. Through a series of art-based workshops, public events, social media platforms, and a final performance/exhibition at the Cathedral of St John the Divine, community members participate in building networks of shared responsibility and belonging.