DISCUSSION: Keyword: Justice–Interdisciplinary Conversation on Thursday, March 23!
March 8, 2017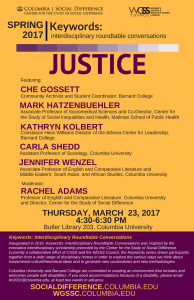 On Thursday, March 23, 2017 from 4:30 – 6:30 p.m., CSSD and the Women's, Gender, and Sexuality Studies Council will co-host a Keywords: Interdisciplinary Roundtable Conversation on the keyword "Justice" in Butler Library 203, Columbia University.
Keywords programs draw participants together from a wide range of disciplinary homes in order to explore the various ways we think about fundamental critical/theoretical ideas and to generate new vocabularies and new methodologies.
This year's program features:
Che Gossett
Community Archivist and Student Coordinator, Barnard College
Mark Hatzenbuehler
Associate Professor of Sociomedical Sciences and Co­Director, Center for the Study of Social Inequalities and Health, Mailman School of Public Health
Kathryn Kolbert
Constance Hess Williams Director of the Athena Center for Leadership, Barnard College
Carla Shedd
Assistant Professor of Sociology, Columbia University
Jennifer Wenzel
Associate Professor of English and Comparative Literature and
Middle Eastern, South Asian, and African Studies, Columbia University
Rachel Adams (moderator)
Professor of English and Comparative Literature, Columbia University and Director, Center for the Study of Social Difference